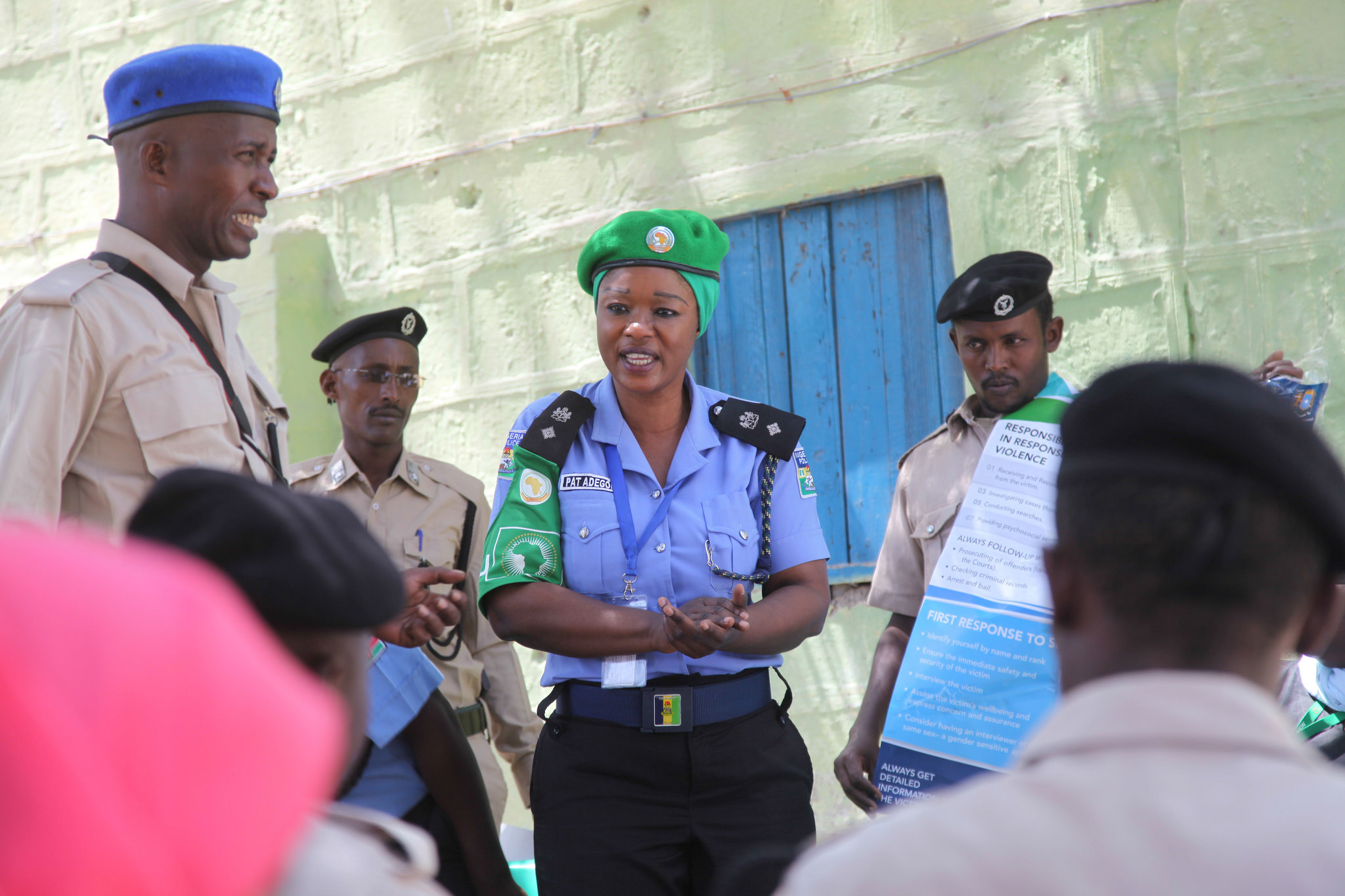 BAIDOA – The gender unit of the police component of the African Union Mission in Somalia (AMISOM) has rolled out a campaign to increase awareness on Sexual and Gender Based Violence in Somalia's regional states.
The campaign builds on an initiative launched last year, which saw Family Violence, Sexual Offences and Child Protection Desks, established at police stations in Mogadishu and some of the state capitals.
The initiative seeks to enhance the capacity of Somali police in handling cases of sexual and gender-based violence.
"In October last year, AMISOM trained police officers on how to handle cases of gender and family violence. In relation to that, we established in a number of police stations, Family violence, Sexual Offences and child Protection desks," Stella Maranga, the AMISOM Police Gender Officer explained.
"This campaign is a follow-up with the same set of police officers, to help them understand better how to handle cases of gender and sexual-based violence, family violence and child protection," she added.
15 police officers undertook the refresher training in Baidoa on Tuesday.
"The first aspect of the campaign is the role of the police. Each police station has a gender desk but all officers will at some point deal with SGBV. Secondly, we look at the rights of the victims and how police can help victims secure their rights. Thirdly, we talked about handling of child victims and lastly we rolled out a poster campaign, so members of the public can know where to go when they have come across cases of sexual violence", Ms. Maranga stated.
Noor Ahmed Mohamed, a police officer based at the Baidoa central police station, who was one of the beneficiaries of the refresher training, said the sessions had increased his understanding of matters related to sexual and gender based violence.
"The discussions have strengthened my understanding of child protection and the rights of women", he said.
AMISOM Police gender coordinator Patience Adegoke said the campaign will continue in other parts of Somalia.
On Monday, the team rolled out a similar awareness and sensitization campaign with Jubbaland Police in
Kismaayo, the administrative capital of Jubbaland state.
Belet Weyne is the next stop for the campaign, as AMISOM and Somali Police seek to entrench a culture of responsiveness, to delicate matters involving sexual violence and child protection, in law enforcement.